"Walking United, Empowering Disciples"
"Caminando Unidos, Empoderando a los Discipulos"
Archbishop Gregory J. Hartmayer, OFM Conv. has announced that the suspension of the obligation to attend Sunday Mass has been extended indefinitely. Please see archatl.com for more information.
(Temporary) MASS SCHEDULE: For the time being we are altering our Mass schedule. These are the times that our Masses will be celebrated and live streamed via our Facebook page and our website.
4 p.m. Saturday Vigil Mass (English)
7:30 a.m. Sunday Mass (English)
10 a.m. Sunday Mass (English)
1 p.m. Sunday Mass (Spanish)
4:00 p.m. Sunday Mass (English)
7:00 p.m. Sunday Mass (Spanish)
SPB Parish Directories are IN! Email Melissa at mlanglois@stphilipbenizi.org if you sat for a portrait. Unfortunately, we do not have many extras so only those who sat for a portrait have a directory!
The 2021 Second Collection Schedule
The 2020 Stewardship Lay Witness Video: The Paulus Family (Nancy Paulus)
Volume 3 of HEAR MY STORY: Parishioner Carol Clemmons
Enjoy the 2020 Stewardship Appreciation Video below!
Click here to view the mass intention calendar and reserve a Mass intention
Please help us by signing up for Masses ahead of time! Click the SignUp Genius logo below.
​​​​​​​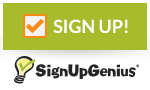 The SPB Kitchen Equipment Catalog: Please consider gifting an item or donation for Christmas! Call Helena in the Parish Office at 770-478-0178.
Worship Aids //guías de adoración
Register for Masses on January 23-24, 2020
Registrarse: Misa 24 de enero de 2020
LIVE STREAMS OF Masses are archived here (from June 3, 2020 to present)
Text the word INFORMED to 84576 to join our FLOCKNOTES (weekly e-newsletter) list. It is a great source for all things St. Philip Benizi Catholic Church!
Read it. Know it. Live it! THE SPB PASTORAL PLAN: English Espanol
Ministry Plan Form Regarding Pastoral Plan
If you experience problems with online giving, please contact the following:
Donor Support Line: 1-800-348-2886
Select Option 2 for Tech Support, then Option 1 for Donor Support
---
Archdiocesan Safe Environment Program
Protecting the Youth and Vulnerable
The Archdiocese of Atlanta is committed to helping children and young people learn and grow in a healthy and safe environment. St. Philip Benizi complies with archdiocesan safe environment policies and procedures in accordance with the U.S. Bishop's Charter for the Protection of Children and Young People. Safe Environment programs are in place to assist parents and children—and those whose duties involve contact with minors—in preventing harm to young people.
The Archdiocese of Atlanta proudly offers Safe Environment training materials to all schools and parishes. VIRTUS Protecting God's Children (commonly referred to as "Virtus") is the training program for adults and children in grades Kindergarten through 12th grade. We are happy to partner with you in working to keep your children safe. Please visit the Archdiocesan Safe Environment page for information on reporting child abuse.
Important Links
SE Main page - https://archatl.com/ministries-services/safe-environment/
Reporting Abuse - https://archatl.com/offices/child-and-youth-protection/reporting-abuse/